Help our Chattanooga Homeless Community
Freezing temperatures have officially descended onto Chattanooga, leaving at-risk homeless populations vulnerable to its effects. This year, the usual need for warm clothing has been exacerbated by the Covid-19 Pandemic. Its negative impact on so many lives has made the need for coats greater than ever before.
Allied Eye invites you to join us in giving the gift of warmth this holiday season through our Spread the Warmth clothing drive. In a partnership with the Chattanooga Regional Homeless Coalition, we will be collecting gently used warm clothing that will be distributed to our city's homeless residents.
Please go through your closets and donate any of the following gently used items:
Coats
Gloves/Mittens
Hats
Wool socks
Blankets
Scarves
You can drop them off at our office, located at 7405 Shallowford Road, Suite #420, during normal business hours. The drive ends January 1st.
Everyone who donates will be entered in a drawing to win a great pair of Oakley PRIZM sunglasses. These lenses are a new Oakley technology that fine tunes vision for specific environments. They are designed to enhance color and contrast to help enhance performance and safety. In return, you will be able to see life in greater detail. Oakley PRIZM sunglasses are the perfect gift for someone special—or to keep for yourself!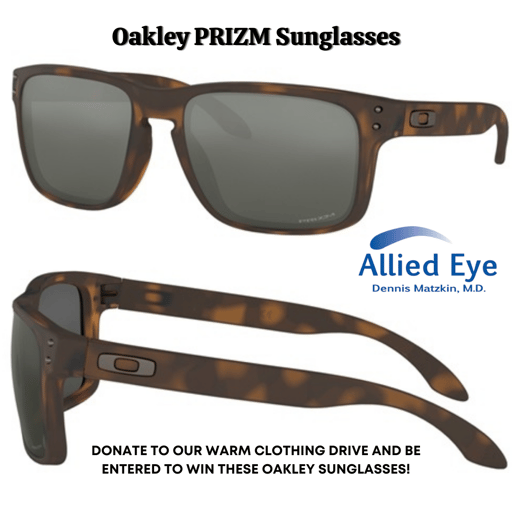 If you'd like additional information regarding our Warm Clothing Drive, visit our Facebook Event here. Don't hesitate to call or text our office if you have any questions, (423) 855-8522. Thank you in advance for helping us Spread the Warmth this winter!