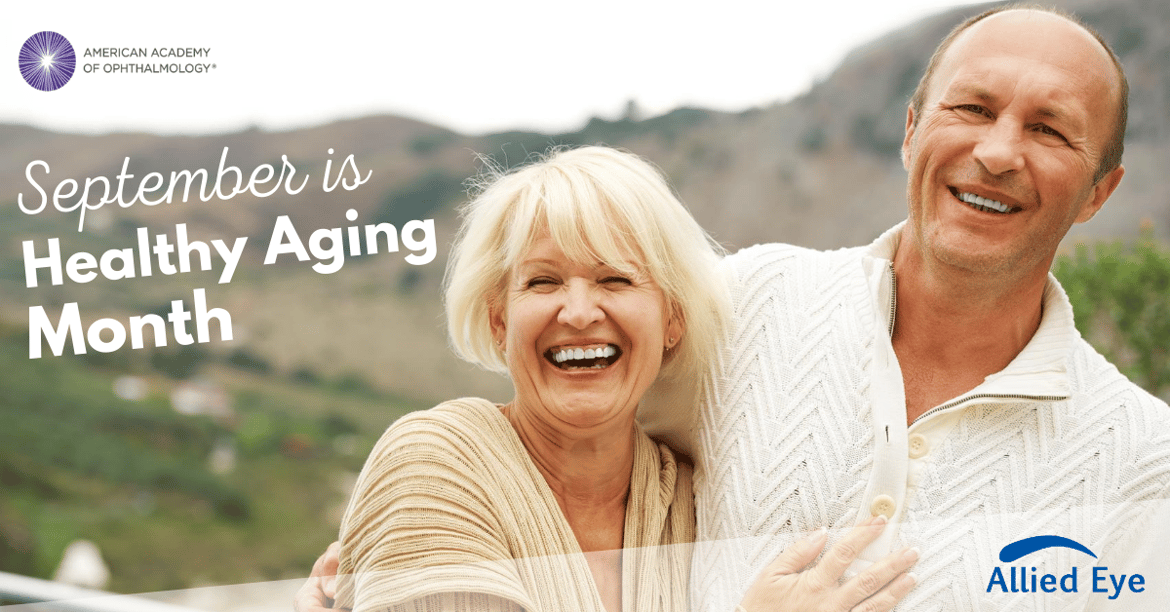 Most older adults realize how vital regular checkups are to maintain good health. However, a significant percentage of them fail to schedule regular eye exams. In a survey of those experiencing some degree of sight impairment, only 13% stated that they had seen an ophthalmologist about their problem.
Older Americans with reduced or impaired vision often believe that nothing can be done to improve their eyesight. The truth is that most people with vision loss can benefit from vision therapy. This type of rehabilitation can help make life with low vision easier.
Early detection and treatment is key to avoiding severe vision loss from glaucoma, age-related macular degeneration and other eye diseases that occur more commonly as we age. Keep reading to find out how important it is to include vision care in your overall plan for good health, and learn what to do if you're already experiencing vision issues.
When to Schedule Adult Eye Exams
The first step in protecting your vision is to get regular eye exams. The American Academy of Ophthalmology (AAO) recommends that healthy adults have a baseline eye exam at age 40. This is true even if you've had no history of eye disease or vision problems. After the baseline exam, healthy adults should visit the ophthalmologist at least every other year.
You may already be accustomed to seeing the eye doctor regularly, particularly if you wear glasses or contact lenses. If you have other underlying health issues, such as diabetes or hypertension, annual eye exams are vital for early detection of eye problems. Do not hesitate to schedule an ophthalmology appointment if you experience any of the following signs and symptoms:
Blurry vision

Difficulty reading

Flashes of light

Difficulty seeing at night

Double vision

Red or watery eyes
If you are over the age of 65 and concerned about the cost of an eye exam, the AAO may be able to help. The AAO's EyeCare America program offers eligible senior adults a comprehensive eye exam and up to one year of treatment at no out-of-pocket cost.
Low Vision
Older Americans frequently experience low vision—poor eyesight that can't be improved with corrective lenses or surgery. People with low vision have blind spots that make it difficult to perform daily tasks. As more people live longer, the number of older adults experiencing low vision is expected to double.
Many older people assume that nothing can be done to improve their quality of life after significant vision loss. However, adults with low vision can make certain changes to retain their independence. Vision rehabilitation offers a wide range of tools and strategies to improve life with low vision.
"The prospect of being unable to drive, read or see loved one's faces is frightening and can lead some people to withdraw from life," said John D. Shepherd, M.D., a clinical spokesperson for the American Academy of Ophthalmology. "While there isn't one strategy or tool that works for every person, vision rehabilitation offers hope. It can help people stay in their homes and keep doing the things they love to do."
Whether low vision is caused by age-related macular degeneration, diabetic eye disease, inherited retinal diseases or glaucoma, vision rehabilitation helps. High-tech solutions include glasses equipped with small cameras that restore the ability to see faces and read text. Simpler solutions include portable magnifiers and occupational therapy.
Home Adaptations to Improve Vision and Safety
Simple changes at home can improve your quality of life after a low vision diagnosis. In fact, these adaptations can improve the quality of life for every member of your household, regardless of age.
Reduce clutter. A cluttered home is difficult to navigate and makes it hard to find things when you need them. If organizing doesn't come naturally to you, hire a professional organizer to help you declutter and create a place for everything you need.

Embrace technology. Amazon Alexa, Microsoft Cortana and Google Home can help you continue to perform daily tasks through simple voice commands. These apps and devices allow users to check the weather, dial the phone, read text and even set a thermostat. Use them to set appointments and reminders—especially for your next eye exam.

Increase contrast: Contrasting colors help you see essential items. Use dark place mats under light-colored dinnerware and put dark rugs on light-colored floors. Buy towels that contrast with your tile and countertops.

Improve lighting. Thirty million older Americans

fall each year

, resulting in approximately three million injuries and 30,000 deaths. The combination of low lighting and low vision accounts for many of these falls. Add bright lighting to dark halls and stairways and increase the amount of task lighting in your kitchen. Remove unnecessary rugs and use nonskid padding under the ones you keep. Apply reflective or contrasting colored tape along the edges of steps, rugs and lampshades.
You're Safe at Allied Eye
Allied Eye is committed to continuing to ensure your health and safety during the COVID-19 pandemic by maintaining the following precautions:
Requiring masks to be worn at all times in our facility

Virtual check in by phone or text from the parking lot

Heightening cleaning and disinfecting of exam rooms, chairs and all equipment between each patient

Temperature checks of all staff and patients upon entry into the building

COVID-19 health questionnaire daily for all staff and patients upon entry into the building

Limiting waiting room seating to ensure 6 ft. between each patient
Thank you to those of you that have entrusted your eye care to Allied Eye. We would like to invite those of you that are still looking for a new ophthalmologist or optometrist to give us the opportunity to serve your needs. Your eyes are an important part of your health. When your vision health is at its best, you perform better in all aspects of your life.
We strive for excellence at Allied Eye and you can look forward to a welcoming and professional eye care practice. Please text or call our office for your next appointment. (423) 855-8522, and visit www.alliedeye.com to learn more about our services and all that Allied Eye has to offer you and your family.